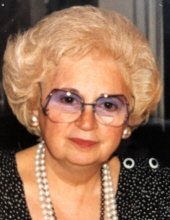 Obituary for Alyce (Reizian) Merian
Alyce (Reizian) Merian, well-known Brockton businesswoman and civic leader, passed away peacefully on Monday, August 27, 2018. The City of Brockton lost a true Champion.

Born June 21, 1929 at Brockton Hospital, she was the daughter of Armenian immigrants, Hovnan and Malvina Reizian and loving wife to John Merian. Alyce was a graduate of Brockton Highschool in 1947, she attended Perkins Elementary School and BB Russell Junior High School. She loved the City of Brockton said her son John "she always had a story about Brockton, whether it was about the shoe industry, or many prominent business leaders of the time, frequently she would take me on a tour of Downtown Brockton talking about Ullians Luggage store, Ganley's, Edgars, Frasers, The Brockton theatre and Dunnington's Pharmacy. Her passion made me curious about Brockton's history and as a result I am very involved in teaching the young people of this generation all about Brockton History in our Downtown History "tours". In 1981 she was asked to be chairwoman of the decorating committee for Brockton's 100th Anniversary Celebration, "she was always involved if it meant doing something for her City and Armenian-American Community.

After graduating from Brockton High School, she attended New England School of Law but would soon follow her passion in life beginning at Bonwit teller in Boston learning her craft in Millinery and then in 1951, at the age of 21, She opened her first Bridal Shop on the corner of School Street and Main in a 400 square foot second floor area. During an era of stay at home mom's, Merian was a pioneer that would have a successful business career lasting over 6 decades. All 3 of her locations were within one block all in Downtown Brockton. In 1978, with her husband John, she opened the largest Bridal Shop in New England and invested in Downtown Brockton by purchasing and renovating the current location as part of an urban renewal effort. In 1983 expanded further opening Tuxedos by Merian with her two boys John and Paul. While many downtown businesses were abandoning the city's center, Merian was determined to help rebuild Brockton's Main Street.

Throughout her life, Alyce was very involved in The Armenian Community. As a young woman she was involved in The Brockton Armenian Youth Federation, becoming a delegate for national conferences and later The Brockton Cultural Society where together she and many of her friends established and Armenian School to teach the young generation The History and Language of Armenia. Merian was very proud of her Armenian-American heritage and in a 2015 Enterprise article reflected about The Armenian Genocide and Pope Francis service to commemorate the 100th Anniversary "Merian called the pontiff's service magnificent on April 24, to mark the anniversary of the genocide, I will attend my church, St. Stephen's Armenian Apostolic Church in Watertown, where I will reflect on the lives lost a century ago and I will think of my family, especially my father."

During the years of her retirement Merian would stay active in the business doing alterations and developing a Christmas Ornament line from all of her scrap fabrics over the 60 years in business. "The ornaments are magnificent and all individually unique" said her son Paul "they are a gift to her 6 grandchildren and a constant reminder of how special Christmas was to her". 'She is the reason my Brother Paul and I have dedicated 25 years of our lives for The Annual Holiday Parade in Brockton" said her son John "She loved Christmas, being a businesswoman, Brocktonian, Armenian-American and mostly a loving Grandmother"

Merian is survived by her 2 sons, John and Paul Merian; her daughters-in-law, Shoghig and Elvan Merian; her 6 loving grandchildren, Levon, Maral, Daron, Lenna, Tamar and Armen Merian.

A funeral service will be held in the Annunciation Greek Orthodox Church, 457 Oak St., Brockton on Thursday, August 30th at 11:00AM. Interment will follow in Pine Hill Cemetery, West Bridgewater. Calling hours in the Russell & Pica Funeral Home, 165 Belmont St., (Rt123) Brockton on Wednesday, August 29th from 4:00-8:00PM. In lieu of flowers, donations may be made to St. Stephens Armenian Church, 38 Elton Ave., Watertown, MA 02472 or Armenian Museum of America, 65 Main St., Watertown, MA 02472.
Previous Events
Visitation
Russell & Pica Funeral Home - Brockton
165 Belmont St.
Brockton, MA 02301
Service
Annunciation Greek Orthodox Church
457 Oak Street
Brockton, Massachusetts 02301
Memorial Contribution
St. Stephens Armenian Church
38 Elton Avenue
Watertown, MA 02472
Armenian Museum of America
65 Main Street
Watertown, MA 02472