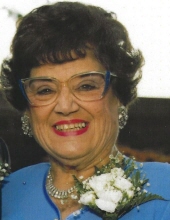 Obituary for Marguerite B. "Margo" Asack
Marguerite B. (Korkmas) Asack, 91, known throughout the city as Margo, passed away Saturday, July 7, 2018 at the Good Samaritan Medical Center after a brief illness. She was the wife of the late Peter L. Asack, Sr.

Marguerite Bernadette Korkmas known throughout the city as Margo Asack was born in Boston, Ma on April 11, 1927 to parents of Lebanese origin, Toufic and Miriam Korkmas, and was the first of two children. She grew up in a Lebanese Maronite Catholic community with her younger sister Isabelle Bethoney.

Marguerite, known as "Margo" was schooled at a private Catholic boarding school and then at sixteen, she graduated at the top of her class from Daley Commercial High School in 1942. After graduation Margo became a court stenographer and was then later employed by Cole Hersee in Boston.

Following in her mother's footsteps, Margo became a well-known Lebanese dancer, often asked to dance solo and would frequently lead the traditional Lebanese line dances called the "dubki" at Lebanese church social events.

At one such church social Margo met her future husband Peter Louis Asack. He was the seventh of nine children born to Louis and Adele Asack who were also of Lebanese origin. Peter was born in a home on Elliot street in Brockton on September 14,1925. He joined the United States Navy in 1943 and served until he was honorably discharged on March 15,1946.

Peter and Margo were married on October 1, 1950 at Our Lady of the Cedars of Lebanon church in Boston, Ma. They moved to an apartment on Baxendale avenue, became residents of Brockton, began their family and bought their first and only home on Ash street in 1958.
Margo was a 67-year resident of Brockton, Massachusetts, an active parishioner at St. Theresa's Maronite Catholic church and socially active throughout the Brockton community.

Margo and Peter were a devoted couple for over 55 years. Central to their marriage was a deep faith with strong ties to Brockton's St. Theresa's Maronite church, their family and the life that they built together in Brockton and until Peter's passing on December 3, 2006.

Margo became actively involved with her husband Peter in fund-raising efforts to build Brockton's Saint Theresa 's Maronite church where until recently remained quite active in all fund-raising events. She was a past president, treasurer and secretary of St. Theresa's ladies' sodality and Margo was also a past president, treasurer and secretary of the Lebanese American Women's Auxiliary.

Margo was also a past treasurer and actively involved with the AARP Brockton chapter. She visited the sick and helped the elderly with their personal accounting.

Margo was one of the oldest active parishioners of St. Theresa's Maronite church, she directed and sang in the church choir every Saturday and Sunday.

Last year on Sunday, April 30,2017 family, friends and the community of St. Theresa's Maronite church, celebrated Margo's 90th birthday. A surprise party was held at St Theresa's Church hall. Over 200 family and friends gathered to extend their congratulations and good wishes.

A special Apostolic Blessing certificate issued by the Vatican from the Holy Father Pope Francis as well as a congratulatory letter from Bishop Gregory John Mansour of the Eparchy of Saint Maron of Brooklyn were presented by her cousin and Godchild Mr. John Kurey. John traveled from New York to attend and present the very special Pope's certificate and the Bishop's letter of good wishes and thanks for Margo's lifelong services to St. Theresa's church parish and the Maronite community.

Also in attendance was Senator Michael Brady who presented an official citation from the Massachusetts State Senate. Mayor Carpenter, unable to attend, sent his good wishes along with his representative who delivered a citation from our city of champions, Brockton, Massachusetts. Numerous other greetings, citations and well wishes were received by mail including a citation from Charles Baker, Governor of the Commonwealth of Massachusetts.


Margo is survived by her children, Patricia Ann Asack Nixon and her husband John, Marguerite A. "Peggy" Asack Hess and her husband Douglas, Louis G. Asack and his wife Michelle, Robert M. Asack and his wife Denise, Peter L. Asack, Jr. and his wife Francesca, Nancy A. Asack Cruthcher and her husband Ben and John J. Asack; she is also survived by 12 grandchildren, 5 great-grandchildren and many nieces and nephews. She was the sister of the late Isabelle Bethoney. She was the former mother in law of Kim Asack.

Funeral from the Russell & Pica Funeral Home, 165 Belmont St., (Rt123) Brockton on Friday, July 13th at 9:00AM thence to St. Theresa Maronite Catholic Church, 343 North Main St., Brockton where services of the Divine Liturgy will be celebrated at 10:00AM. Interment will follow in Calvary Cemetery, Brockton. Calling hours Thursday 3:00-8:00PM with an Incense Service at 5:00PM.
Previous Events
Visitation
Russell & Pica Funeral Home
165 Belmont Street
Brockton, MA 02301
Service
St. Theresa Maronite Catholic Church
PO Box#2567
Brockton, MA 02305
Memorial Contribution
St. Theresa Maronite Catholic Church
PO Box#2567
Brockton, MA 02305