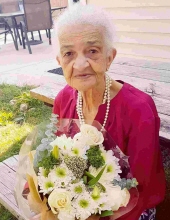 Obituary for Palmira F. (Afonso) Goncalves
Palmira F. (Afonso) Goncalves, 83, of Brockton, passed away on Monday, June 18, 2018 at her home under the care of her family and hospice after a period of failing health. She was the wife of the late Joaquin Goncalves.

Born September 11, 1934 in Fogo, Cape Verde, she was a daughter of the late Joao Afonso and Francisca (Lopes) Afonso. Palmira was raised in Cape Verde and came to the United States in 1998. She loved cooking for her family. Palmira enjoyed dancing, music and gardening. Her main job was caring for her grandchildren. She loved her family dearly.

She is survived by her children, João Gonçalves, Socorro Darosa, Fatima Gonçalves, Antonia Gonçalves, Joaquina Gonçalves, Rita Gonçalves, Domingos Gonçalves, Manuela Gonçalves; her grandchildren, Marliny Miranda,
Paulino Miranda, Sydney Gonçalves, Silvia Darosa,
Isaulino Rosa, Natalie Rosa, Jasaun Darosa, Palmira Gonçalves, Filipe Docanto, Christopher Docanto and Danildo Teixeira; her great-grandchildren, Mariah Teixeira, Damayah Teixeira, Damanyah Teixeira, Synlina Rosa, Sadida Rosa
Nathan Rosa, Gillian Cardoso, Kyle Amaro, Amari Miranda, Sydney Miranda, Luis Pires, Luisa Pires, Liany Pires; her siblings, Arlindo Afonso, Iduino Afonso, Domingos Afonso, Maria "Nhadji" Afonso,
Idalina Afonso, Izidora Afonso. She is also survived by her several nieces and nephews.

A Funeral Mass will be held on Friday, June 22nd in St. Edith Stein/ St. Edward Parish, 71 East Main St., Brockton at 10:00AM. Interment will follow in the Melrose Cemetery, Brockton. Calling hours on Thursday from 4:00PM - 8:00PM in the Russell & Pica Funeral Home, 165 Belmont St. (RT123) Brockton.
Previous Events
Visitation
Russell & Pica Funeral Home - Brockton
165 Belmont St.
Brockton, MA 02301
Service
St. Edith Stein Parish
71 East Main Street
Brockton, MA 02301