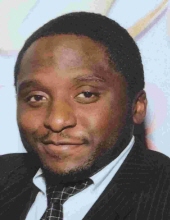 Obituary for Berkenson Jean
Berkenson Jean passed away Thursday morning, February 1, 2018 at the age of 30. Born on March 23, 1987 in Boston, MA to his parents Berlange & Dieulifaite Jean of South Easton, MA, who are the hardworking owners of the beloved Jeano's Restaurant in Brockton.

Berkenson graduated Oliver Ames High School in 2005, where he was a decorated member of the Varsity football team in multiple positions, including Full Back and Defensive End. He later joined the Army National Guard in 2013.

He had an amazing spirit, and spread love and positivity to all those around him. He was a man filled with great potential, a hard worker and a loving father, son, brother and friend.

He was survived by his beautiful daughter Nevaeh, age 7 of Tiverton, RI. His older sister Myrlande Jean of Florida, and younger siblings Derrick and Ashley Jean of South Easton, MA.

A funeral service will be held on Saturday, February 17th at 9:00AM in the First Haitian Church of Brockton, 940 Main St., Brockton. Interment will follow the service in Melrose Cemetery, Brockton. Visitation will be prior to the service from 8:00AM to 9:00AM IN THE CHURCH.