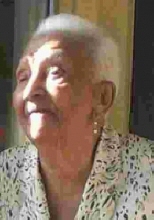 Obituary for Benvinda DaRosa
Online Obituaries


Benvinda DaRosa, 91, of Somerville, passed away on Wednesday, November 27, 2017 at the Massachusetts General Hospital in Boston. She was the wife of the late Luciano Pires.


Born August 3, 1926 in Fajazinha, Mosteiros, Fogo, Cape Verde, she was a daughter of the late Francisco DaRosa and Luisa (Antunes) DaRosa. Benvinda loved to go to church.


She is survived by her children, Antonio Pires, Francisco DaRosa, Luis Pires, Antonia Pires, Leonor Rodrigues, Virgilia Pires, Luciana Docanto, Francisca Pires, Amaro Pires and Amancio Pires; her siblings, Maria Antunes Carruto and Isabel DaRosa Rodrigues. She is also survived by her 27 grandchildren, several great-grandchildren and many nieces and nephews.



Funeral Information


A Funeral Service will be held in the Russell & Pica Funeral Home, 165 Belmont St., (Rt123) Brockton on Wednesday, January 3rd at 10:00AM. Interment will follow in the Melrose Cemetery, Brockton. Calling hours in the Russell & Pica Funeral Home on Tuesday from 5:00PM-9:00PM.