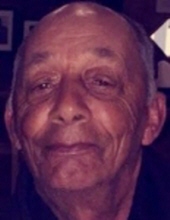 Obituary for Domingos "Dodonu" DeAndrade
Online Obituaries


Domingos DeAndrade, 81, of Brockton passed away on Tuesday, December 12, 2017 surrounded by his loving family. He was the husband of the late Maria (Rodrigues) DeAndrade.



Born February 7, 1936 in Fogo, Cape Verde he was a son of the late Mino and Laidina (Nunes) DeAndrade.


Domingos enjoyed dancing, playing cards, telling jokes and giving kisses to his loving family.


He is survived by his childen; Marcelina Goncalves, Manuel Alves Teixeira, Augusto DeAndrade, Joao Alves Teixeira, Laidina Monteiro, Flavia DeAndrade, Cataina DeAndrade, Lenita DeAndrade, Denice Teixeira, Vital DeAndrade, Amilcar DeAndrade, Fransisca Dias, Marcelina Andrade, Madueno Andrade, Sandra Andrade, Bruno DeAndrade, Suely DeAndrade and Jose DeAndrade; several grandchildren, great grandchildren, cousins and friends.


Funeral Information


Funeral Services will be held in the Russell & Pica Funeral Home, 165 Belmont St., Brockton on Monday, December 18th at 10:00AM. Interment will follow in the Melrose Cemetery, Brockton. Calling hours in the funeral home on Sunday from 4:00PM-8:00PM.