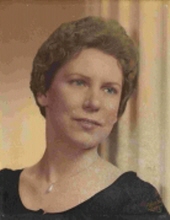 Obituary for Fotini Psilekaris
Online Obituaries


Fotini "Frances" (Dagopoulos) Psilekaris, of Brockton, passed away Wednesday night, December 27, 2017 suddenly in her sleep at home.

She was born and raised in Rodohori, Kozanis, Greece by her late parents, George and Kleanthy Dagopoulos and immigrated to the United States and settled in Brockton.

She worked at The Mackentosh Company, Raytheon Company and Boston Scientific.

She was a skilled seamstress and loved gardening, decorating, cooking and spending time with family.

She was a member of the Annunciation Greek Orthodox Church and a strong believer in her faith and the power of prayer.

She is survived by her beloved husband Thomas Psilekaris; her sister, Soultana Daravigkas of Greece; her sister-in-law, Elefteria Dayos of Greece and her beloved sister-in-law, Theodora Psilekaris of Brockton; as well as a number of nephews and nieces in Greece. She is predeceased by her brothers, John and Kostas Dayos of Greece and her sister Penny Zahos of Florida.



Funeral Information


FUNERAL SERVICES AT CHURCH POSTPONED DUE TO STORM

Calling hours for Fotini are still scheduled for WEDNESDAY (Today) from 4:00-7:00PM in the Russell & Pica Funeral Home, Brockton.

Funeral services are postponed until MONDAY, January 8th at 11:00AM in the Annunciation Greek Orthodox Church, 457 Oak St., Brockton. Interment will follow in Melrose Cemetery, Brockton.