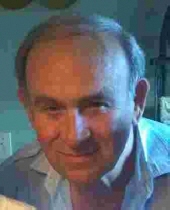 Obituary for Steve "Stavros" Georgeakakis
Online Obituaries


Steve Stavros Georgeakakis, 80, of Abington, passed away on Sunday, December 10, 2017 at his home surrounded by his loving family. He was the loving husband of the late Stella (Vintzileos) Georgeakakis.


Born August 16, 1937 in Athens, Greece, he was a son of the late Haralampos Georgeakakis and Antonia (Makri) Gannis. Raised and educated in Greece, Stavros was a military police officer for the Greek Airforce.


He came to the United States in 1961. He married the love of his life Stella in 1963. He owned and operated Brookville House of Pizza in Holbrook for 25 years until his retirement. Steve was also the owner of Stavros Pizza in Weymouth in the mid 90's. At this time in his life Steve dedicated all of his time to care for his wife at home during her illness until her passing in 2009.


Some of his hobbies were playing a game of backgammon and rooting for his favorite Boston sports teams. He loved dancing with the ladies. He was involved with the youth soccer in Holbrook for many years.



He is survived by his children, Lia Jenner and her husband Gregg, Tina Georgeakakis, and Harry Bobby Georgeakakis and his wife Joanne; his grandchildren, Stephen and Alexx Jenner and Kyra and Steven Georgeakakis. He was the brother of the late Yanni, Sarantis and Panagiotis Georgeakakis.



Funeral Information



Funeral Services will be held in the Annunciation Greek Orthodox Church, 457 Oak St., Brockton on Wednesday, December 13th at 11:30AM. Interment will follow in the Melrose Cemetery, Brockton. Calling hours will be held in the Russell & Pica Funeral Home, 165 Belmont St., (RT123) Brockton on Wednesday from 10:00AM-11:00AM.