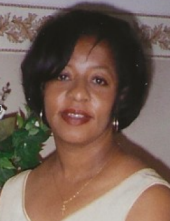 Obituary for Wanda (Betts) Exama
Wanda Betts-Exama 58 passed away Thursday February 21, 2019 at Good Samaritan Hospital.

She was born September 18, 1960 in Trenton, NJ to Alma (Pete) Betts and Earnest Betts.

Wanda graduated Brockton High in 1978, Newbury Jr. College 1980. She was employed as a Manager at Venture Tape/3m for over 35 years. Her hobbies were collecting clowns, playing cards, and eating Chinese/Seafood.

She leaves to cherish her memories, husband Gustave Exama, and her loving mother Alma (Pete) Betts, her nephew Shawn Boone, who will forever and always hold a special place in her heart, her siblings Keith Betts (Ruthy), Daphne D. Betts (Cheryl), Jacqueline Betts, Lena Betts, along with several aunts, uncles, nieces, nephews, and a host of other friends. In addition Wanda leaves a special friend David Fournier, along with her #EASTSIDE for Life family. She was the daughter of the late Earnest Betts, and sister of the late Stevie and Gail Betts.

MISS ME, BUT LET ME GO
When I came to the end of the road
And the sun has set for me,
I want no rites in a gloom-filled room,
Why cry for a soul set free.
Miss me a little – but not for long
And now with your head bowed low,
Remember the love that we once shared,
Miss me, but let me go.
For this journey that we all must take
And each must go alone;
It's all a part of the Master's plan
A step on the road to home.
When you are lonely and sick at heart
Go to friends we know,
And bury your sorrows in doing good deeds,
Miss me, but let me go

A prayer service will be held on Friday March 1, 2019 @ 10:30AM, in the funeral home. Repass will follow at the Enterprise Club 12:30 PM- 3:30 PM.
Previous Events
Service
Russell & Pica Funeral Home - Brockton
165 Belmont St.
Brockton, MA 02301