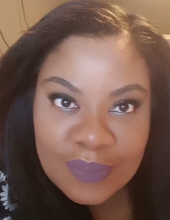 Obituary for Renee Berrouet
Renee Berrouet, 33, of Randolph, passed away Friday, July 26, 2019, at the Milton Hospital.

Renee was born in Boston, Massachusetts on April 8th, 1986 and was the loving daughter of Ernst Felix Berrouet and Marie Elsie Florestal Berrouet. Renee was raised in Randolph, MA but also lived in Brockton for several years. Renee passed away unexpectedly on Friday, July 26th, 2019 at Milton Hospital. Renee was a Massage Therapist who attended Quincy Community College.

Renee was the loving youngest sibling of Roodchile Guillaume, Frantz Jr. Guillaume, Reginald Guillaume, Ernst Jr. Berrouet, Joane Berrouet, Marvin Berrouet, Helena Berrouet, and Clara Berrouet.

Renee enjoyed spending time with her family and friends. She enjoyed reading intriguing books, enjoyed going on vacations and concerts (especially with her best friend Amy Bacon), she enjoyed listening to several types of music and loved watching movies, Renee loved doing her make-up and was excellent at doing make-up for her female family and friends.

Renee was the caring niece of many aunts and uncles; her mother's side she is survived by her uncles Fritz Yvon Florestal Theart, Jean Garnel Florestal Theart, her aunts Josett Florestal Theart, Marie Gracia Georges Laguerre, and Marie Solange Fils. On her father's side, she was survived by her aunts Rosette Orcel, Rose Marie Pierre, Gislaine Demosthens, Marie Helen Mascary, Evelyn Berrouet, Colette Berrouet, Soeurette Moise, Nicole Bellegarde, Maggie Laferiere, and Jocelyn Herard. Her uncles Emanuel Berrouet, Fersaine Berrouet, Gerard Berrouet, George Berrouet, Jean Marie Berrouet, and Garsner Berrouet. Renee was also very precious to her godfather Jean Robert Berrouet and his wife Charleen Berrouet.

Renee was an exceptional young woman who cared very deeply for all her family especially her nieces and nephews Dominic Jackson, Frantzy Guillaume, Isaiah Guillaume, Sarah Guillaume, Reginald Jr. Guillaume, Rashawn Guillaume, David Berrouet, Nahla Cantave, and Lilianna Guillaume. Renee had an extraordinary love for her godchildren Alisha Theart, Emmanuel & Mya Bacon, and Kaylianna Hilarion.

Renee leaves behind many cousins whom she loved dearly which includes Blemure Georges Laguerre, Djeden Georges Laguerre, Leonard Georges Laguerre, Daphnee Hilaire, and Djimmy Charles. Renee had many cousins that includes the Lafontant family, Souffrant family, St. Surin family, Moise family, Pierre family, Theart family, Herard family, Rene family, Chery family, Demosthens family, Mascary family, Jules family, Orcel family, St. Charles family, Jean-Poix family, H'Oracius family, Bellegarde family, Tynes family, Oracius family, Sanon family, Louis family, and Laguerre family,

Needless-to-say Renee was loved and cherished by many and only God knows why He chose to take her home so early. Yet, God is Who is going to carry and comfort us all through the pain of missing our beloved Renee until we meet her again in Heaven! Praises to be to God Almighty~Amen!

A funeral Mass will be celebrated on Saturday, August 3rd in St. Mary Church, 211 North Main Street, Randolph at 10:00 AM. Interment will follow in Oaklawn Cemetery, Boston. Calling hours in the Russell & Pica Funeral Home, 165 Belmont St., (Rt123) Brockton on Friday, August 2nd from 5:00-9:00 PM.
Previous Events
Visitation
Russell & Pica Funeral Home - Brockton
165 Belmont St.
Brockton, MA 02301
Service
St. Mary Church
211 North Main Street
Randolph, MA 02368