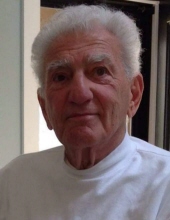 Obituary for Ira A. Kashgagian
Ira (Krekor Jr.) Kashgagian, 87, of Brockton, died Friday, November 23 after a courageous fight with vascular dementia. He was the beloved husband of Ann (Torounian) Kashgagian.

Born in Brockton, he was the son of the late Krekor and Grace (Varjabedian) Kashgagian. Ira was a lifelong resident of Brockton where for many years he co- owned and operated with his brother, Arthur Kashgagian, the family business; Paramount Rug Cleaners and Flooring.

Mr. Kashgagian attended Brockton High School and later, Worcester Academy where he proudly earned numerous academic and athletic accolades. He was also a proud Veteran of the Navy having served from 1951-1959.

He was an active member of the Brockton Y.M.C.A., Commercial Club, Kiwanis and Rotary Clubs, an avid bowler, golfer, and tennis player and would often run D.W. Fields Park. Ira served on the Board of Directors of the Brockton Day Nursery for many years. He most loved spending time with his family and friends at his summer residence on Cape Cod which brought him much joy throughout his life.

He is survived by his loving wife Ann Kashgagian; his sister Rose Hamalian of West Bridgewater; his daughter Karen Godino and her husband Christopher of North Falmouth; his son Chris Kashgagian and partner Sheryl Simons both of Mansfield; his son Kirk Kashgagian and his wife Melissa of South Easton; his 6 grandchildren, Christopher, Nicholas, Anthony, Sarah, Kyle and Kloe and several nieces and nephews. He was predeceased by his brother Arthur Kashgagian.



At the request of the family, a private funeral service was held in the Russell & Pica Funeral with private interment at Pine Hill Cemetery.

In lieu of flowers, donations in Ira's memory may be made to St. Vartanantz Armenian Church, 180 Old Westford Road, Chelmsford, MA 01824.