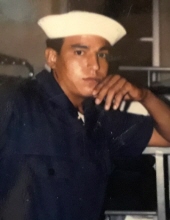 Obituary for Hillario Leonor "Chooch" Fernandes
Hillario Leonor "Chooch" Fernandes, 67, passed away on October 13, 2019, after a recent illness.

Born in Fogo Cape Verde to Mary and Lawrence Fernandes, Chooch moved with his family to the United States at the age of 8. Chooch served in the United States Navy and the National Guard for over 20 years. He also had a career with the Brockton Veterans Administration.

Chooch was an avid historian, loved scratch tickets, game shows, the Three Stooges and old school music.

Chooch was predeceased by his wife Barbara A. (Campbell) and they had two daughters Kristin and Brittany. Chooch was also predeceased by his son, Eric Sutton. They are also survived by their beloved grandsons Jamari and Everett Fernandes.

Chooch leaves to mourn his passing his sisters Maria Fernandes, Maria Cabrera; his brothers Hermano, Jose, and Robby Fernandes; his brother-in-law Alton Campbell, sisters-in-law Karen Carroll, Cynthia Campbell, Rhonda Campbell, and Doreen Campbell. He also leaves several nieces, nephews, and cousins Special thanks to his best friend and cousin Frank Fernandes and his niece Reisha Dennis-Stokes.

Chooch will be cremated and interment will take place at Melrose cemetery. Services will be private.