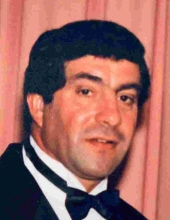 Obituary for Francis E. Celidonio
Francis E. "Franny" Celidonio, of Brockton passed away suddenly on February 4th, 2019, at the age of 71. Franny was retired from the Brockton Fire Dept., Alarm Division and a U.S. Army Veteran. He was a long-time member of the Holbrook Sportsman's Club and an avid outdoorsman, auto enthusiast and a jack of all trades.

Born in Brockton he was the son of the late Frank & Elvira (Gonsalves) Celidonio. He is survived by his two sons, Eric Celidonio and his wife Meka of Hingham and Marc Celidonio and his wife Susan Dos Reis of Brockton, a sister, Terry Price of Attleboro and a cousin, Patty Jones of Canton.

He also leaves behind his grandchildren, Courtney and Nicholas Celidonio of Brockton, Ana and Trey Celidonio of Hingham and Dyllan and Collin DosReis of Brockton.

A Memorial Gathering will be held on Sunday, February 17th at the Russell & Pica Funeral Home, 165 Belmont St., Brockton from 2:00PM – 4:00PM followed by a Life Celebration at the Brockton VFW, 283 North Quincy St., Brockton. Burial is private. Donations may be made to a charity of your choice.