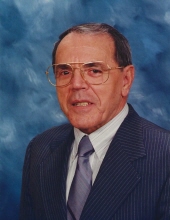 Obituary for Donald C. Valley
Donald C. Valley, 85, of Bridgewater, passed away on Saturday, April 6, 2019 at the Signature Healthcare Brockton Hospital. He was the husband of Leona P. (Baribeault) Valley.

Born on October 13, 1933, in Worcester, MA he was the son of the late William E. Valley, Sr. and Florence E. (Walls) Valley. Donald grew up in Spencer and graduated from David Prouty High School. He proudly served in the United States Marine Corp during the Korean War. After serving in the Marine Corp he attended Clarke University and Becker College.

Donald was a Director of Management Information Services for Gold Seal Rubber Company for many years. After retiring he continued to enjoy working until recently for a local convenience store. Don moved to High Pond Estates in 1996 where he served as a past President of the High Pond Estates Association. He enjoyed playing cards, bocce and was a member of a bowling league for many years.

He is survived by his beloved wife of nearly 63 years, Leona P. (Baribeault) Valley; his children, Susan Ryan, Alan Valley and his wife Theresa, and Steven Valley and his wife Lauren; Papa to five grandchildren and three great grandchildren; his sister Lillian Collette. Donald was the brother of the late William E. Valley, Jr.


All Funeral Services will be private.