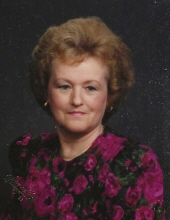 Obituary for Christine A. (Shaw) Cartwright
Christine Ann (Shaw) Cartwright age 84, died at home on June 28, 2019, surrounded by her loving daughter and son in-law.

Christine is survived by her daughter and best friend Grace Young of Bridgewater, her son in-law Chris Young of Bridgewater with whom she enjoyed teasing relentlessly along with participating in discussions regarding politics and sports; her son Paul Cartwright of Bridgewater, her grandson Sean of Bridgewater who never failed to tell her that he loved her. She is preceded in death by three brothers, Paul, Arnold and Donald Shaw and five sisters, Evelyn Barbeau, Phyllis Silvia, Gloria Silva, Roberta Shaw and Marjorie Cabral.

Christine was born in Presque Isle Maine to parent's George Shaw and Reta (Davidson) Shaw. Along with her family she moved from Maine to Middleboro, MA when she was approximately twelve years old. She graduated from Middleboro High School where she learned short hand. After graduation she accepted a position as an accounts receivable bookkeeper at the C.P. Washburn Company in Middleboro.

Christine was devoted to her family and a loving mother. She spent several years at home raising her children. She spent countless hours gardening and then canning and selling her crop. She taught herself to sew and knit. She baked the most delicious pies. She made her daughter Grace's entire wardrobe until she reached the age of 9. She enjoyed a variety of craft projects and participating in craft fairs.

Christine was a Bridgewater resident for the last 53 years.

She rejoined the workforce in 1978 when she accepted a full-time position at Verizon as a Directory Assistance Operator. During her Verizon career she was nominated as Operator of the year. In the twenty years that Christine worked for Verizon she only missed two days of work. She was a dedicated and passionate worker in everything that she did.

After retiring she enjoyed spending time at the casinos and yard sale shopping with her daughter. She enjoyed reading 2 to 3 books per week. She cooked meals on a daily basis and assisted with maintaining the home for her daughter and son in-law for many years. She was generous and kind; when giving someone a gift she would decorate each package with an elaborate handmade bow that friends and family raved about. She was as beautiful as each of the bows that she created.

Her family and friends will always remember her as a kind and compassionate person who would always put the needs of others before her own needs.

Funeral Services will be private.