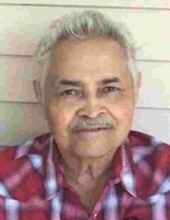 Obituary for Carlos A. Teixeira
Carlos "Caca de Bela" Teixeira, son of the late Antonio Monteiro Teixeira and Bela Teixeira, was born on May 8, 1940 in Praia, Cabo Verde.

He is survived by his children, Antonio Teixeira and wife Ana, Iolanda Teixeira, Silvia Silva and husband Carlos, Carla Dos Santos and husband Carlos, Carla Baptista and husband Carlos, Linda Teixeira-Reyes, Eloise Drane and husband Anthony, and stepchildren; Cici Mallory, Isabel Teixeira, Stanley Goncalves, Keith Goncalves, Craig Goncalves, and he is predeceased by the late Kevin Goncalves. He leaves behind 49 grandchildren, 14 great-grandchildren, many siblings, nieces and nephews.

Carlos came to the United States at the age of 30 and worked as a mason and carpenter. He was an avid soccer fan; Sporting Portuguese Soccer team was his favorite. He loved to cook for people, especially big pots of cachupa. He would often cook huge portions of food then invite his family, friends, and neighbors over to eat. Aside from listening to Cape Verdean music, he loved Frank Sinatra. In fact, you could often hear him singing along to "My Way" which was his favorite song. Carlos loved to dress to impress. He put on a 3-piece suit no matter how casual the gathering. His suits always made him feel like a million bucks.

He had so much love for his children and grandchildren. He had a special place in his heart for those who weren't his by blood, but that he helped raise. He always treated his stepchildren as his very own. And they did the same. The grandkids adored their "Papa" and each had a special bond of their own with him. They will never forget the love he gave to them.

Carlos befriended everyone he encountered. He had many friends, young and old. Whether it was your first time meeting him or you've known him for years, you were accepted, respected and loved by him. Carlos' friends were very special to him. He had a few in particular that were like brothers to him. They shared a unique connection that made them more like family. He had a great appreciation for their friendship, brotherhood, and the genuine love they had for each other.

He was big on birthdays and had a way of making his family/friends feel special on their day. He would call them up, and in only a Carlos fashion, perform a telephonic serenade of 'Happy Birthday.' This was his way of showing you how special you were to him.

Carlos will be deeply missed by all who knew him. He will always be remembered for his special characteristics. From his charming ways, his handsome smile, his calm demeanor, to his attention to detail. He was a wonderful man who leaves a long-lasting impression for years and years to come.

We will forever cherish the great memories. May he be at peace as he enters Heaven's gates.

Funeral from the Russell & Pica Funeral Home, 165 Belmont St., Brockton on Monday, November 19th at 8:00AM followed by a Funeral Mass in St. Edith Stein Parish, 71 East Main St., Brockton at 9:00AM. Interment will follow in the Pine Hill Cemetery, West Bridgewater. Calling hours will be held in the Funeral Home on Sunday from 4:00PM-8:00PM.
Previous Events
Visitation
Russell & Pica Funeral Home
165 Belmont Street
Brockton, MA 02301
Service
St. Edith Stein Parish
71 East Main Street
Brockton, MA 02301