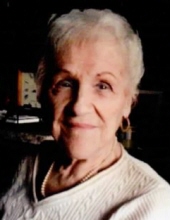 Obituary for Alice M. Bellao
Alice M. (Dinho) Bellao, 89, of Taunton, passed away on October 18, 2019. She was the wife of the late Tiofilo (Philip) R. Bellao.

Born on April 2, 1930, in Danbury, Connecticut, she was the daughter of the late Jack Dinho and Constantine Dinho.

Alice is survived by her sons, Albert Bellao and his wife Kathy Anne Bellao of Taunton, and Philip Bellao of Easton; her grandchildren, Albert Bellao, Jr. and his wife Victoria, Kerri Miller and her husband David, Patricia Bellao, Damien Bellao, Shaun Bellao and his wife Lauren, Cameron Bellao and his wife Cathy Bellao and Breanne Bellao; and her great-grandchildren, Ava Grace Miller, Samantha Bellao, Brenna Eastman, Carrie Bellao, Constance Bellao, Ryan Bellao, Ayla Bellao, Olivia Bellao, Aidan Bellao and Grayson Bellao.

Services were private.